System of 4 mobile measurement points
Usable on drop-off-supports and lifting jacks
System communication via fail-safe data or industry radio data
Hydraulic jacks with approximately 30mm stroke
Can be used with low installation freedom
Calculation of corner forces according to DIN 25045 / 25043-4
Production of stress-free location occurs manually
Calibration by accredited body
Inspection measuring equipment in accordance with DIN EN ISO 7500-1
Operation with UIC and DIN-compliant software
---
Optional:
Displacement measuring system
---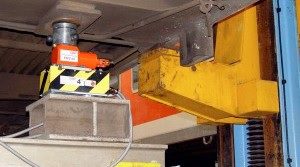 Car bodies are exposed to different stresses during operation. In addition to stresses during normal use there are other stress related influences such as accidents, misuse, shunting or fatigue. Since the system car body and the bogie have to be kept in a condition for safe operation during manufacturing and use, measurements of support or corner forces are necessary with subsequent calculation of the force acting on the interface body-chassis, during manufacturing and through different maintenance stages of the vehicle. Using the data obtained during these measurements, the scale and wheel-set springs can be set. Through settings according to the measured values it will be ensured that the car body moves in all operating conditions within the required limits.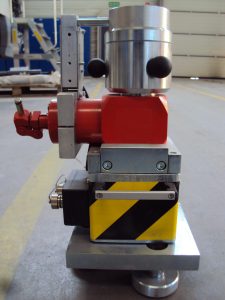 EMS mobile
The mobile corner force measuring units EMS mobile and semi-mobile have been developed for use in both jack systems, as well as for use on drop-off supports. Depending on the application, optimising the corner forces can partly be done automatically via the jack system or even via the hydraulic lifting cylinders integrated into the measuring system. For ensuring a long-term stable vehicle position, these fine lifting devices are provided with mechanical locking mechanisms. Due to the very compact design of the measuring system, these can also be used in hard to reach places. The contact plates of the measuring point for the vehicle are provided with non-slip materials. A moveable force transmission prevents incorrect measurements. The measuring points can also be supplied with separate power supply (battery); in this case the measurement data transmission to the notebook is carried out via industrial wireless data.
---
Areas of application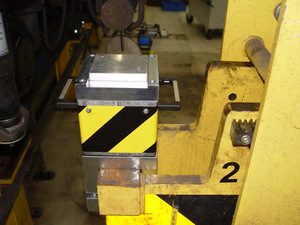 Measuring system for detecting the four-point attachments on car bodies, adjusting the torsion arm positions (corner force measurement system) for shell rail vehicles and upon the final specification of the vehicle as well as car bodies after general inspections is a prerequisite for the geometric measurement of a car body.
---
Technical data measuring system
| | |
| --- | --- |
| Allowable load capacity (measuring system) | 30t - 40t |
| Protection class | IP 45 |
| Data transmission | Digital data / Industry Data Radio |
| Computer connection | Bluetooth, USB, Ethernet, WLAN |
| Supply voltage | 230V/50Hz |
| Battery operation | 12 V |
Technical data measuring points
| | |
| --- | --- |
| Allowable load capacity (measuring point) | 15t - 20t |
| Voltage supply | 12 V |
| Battery operation | 12 V |
| Measuring force per measurement point | 150kN - 200kN |
| Application of force | Movable |
| Protection class | IP 54 |
| Max. division | 20.000 |
| Display resolution | 0,01 kN / 1 kg |
| Accuracy class | (0,5) |
| Nominal temperature | -10°C to 65°C |
| Storage temperature | -40°C to 85°C |