Load test stands in floor standing with an under-floor design.
Test stands with integrated track width adjustment.
Assembly and test stands with upstream and downstream assembly tables.
Modular test dimensioning according to modular principle.
Variable loading means from one to four load points.
Loading means in both hydraulic and electromechanical design.
Internal and external height measurement points for the loading means
Equipment with sensing bars to determine the wheel contact for different
Equipment with measuring prisms to determine the wheel forces and the automatic detection of the wheel diameter and axle alignment.
Laser measuring devices for detecting the wheel disc parallelism.
Laser measuring devices for detecting any number of Z measurement points in the bogie.
Inspection measuring equipment in accordance with DIN EN ISO 7500-1
Operation with UIC and DIN-compliant software
Optional:
Track width adjustment
Axis parallelism measurement equipment
Measuring devices for detecting relevant X / Y / Z measurement points
Mobile truck transport apparatus.
From a simple assembly stand to a high-performance measuring machine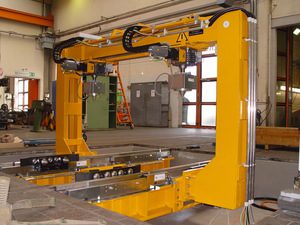 Bogie pressure measurement stands simulate the real forces acting through the vehicle body on the chassis. In addition to the wheel contact force optimisation that supports safety and the minimisation of wear, various X and Z dimensions are inspected under load.
We manufacture load test stands in different design variants to match both the required dimensions, as well as the level of plant automation.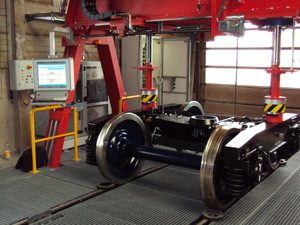 Through self-contained individual components a modular bench system is formed. The modular system allows a targeted assortment of individual components for optimally equipped test and measurement equipment, based on the particular application. The modular system design uses software that continually monitors and controls the test stand. Therefore, both simple measurement or assembly stands with limited demands for their equipment level, as well as highly automated measuring systems are produced with the automatic test equipment.
For all purchased components (PLCs, computer equipment, hydraulic, spindle lifting) only high-quality components from renowned German manufacturers are used.
---
Technical data
| | |
| --- | --- |
| Mounting options | Floor standing / under floor |
| Track width adjustment | Floor standing / under floor |
| Axle centre distance | variable |
| Connection data | According to specification |
| Stress points | 1 to 4 |
| Wheel force measurement points | 4 to 6 |
| Protection class | IP 54 |
| Loading force | Up to 400 KN (Higher forces on request) |
| Nominal temperature | -10°C to 65°C |
| Storage temperature | -40°C to 85°C |
Measuring accuracy
| | |
| --- | --- |
| Load measuring device | Class (0.3) resolution 0,01kN |
| Sensing bars / prisms | Class (0.3) Resolution 0.01 kN |
| displacement encoder | Resolution 0.01mm |
Laser measuring device
| | |
| --- | --- |
| Triangulation (Laser class 2) | Accuracy 0.01 mm |
| Rotating laser (Laser class 2) | Accuracy 0.05 mm |