Mobile system for detecting uprising forces and vehicle masses
Detection of wheel contact on flange
No measuring errors from left-right displacement of vehicles
System communication via fail-safe data
System communication via industrial wireless data
Battery operation of individual measuring points
Number of measurement axes not limited
Suitable for use on all rail types from S41 upwards, independent of gauge
High location variability, no changes to the superstructure necessary
Quick assembly and disassembly times without special tools
Calibration by accredited body
Inspection as measuring equipment in accordance with DIN EN ISO 7500-1
Operation with UIC and DIN-compliant software
---
Design variants:
Wired measuring system in which all measuring heads are interconnected by a digital bus cable and are connected via a USB module or an industrial radio data transmission module to the measurement computer
Battery-powered version: With this version, each axis has its own battery block and the individual wheel load transmits measured data via industrial wireless data to the measuring computer
Variant without a computer: Both versions can also be supplied without a computer and software, therefore we have digital measuring points displays on offer
---
Accessories:
Digital measurement display
---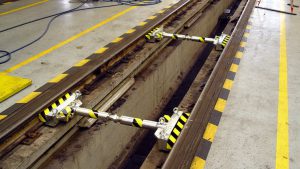 A mobile measuring system for detecting the wheel forces of track vehicles. The mechanical requirements for mobile measuring systems on rail vehicles are very high. When driving onto the systems, especially with heavy vehicles such as locomotives, considerable forces occur. To absorb them permanently, without risking the life of the measuring system or the measuring results, we have designed our systems so that they are extremely solid and robust. Various systems of this type have been in service for approximately10 years, without mechanical impairments.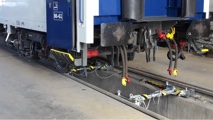 The measuring system was developed for universal use in different rail profiles and track gauges; for the standard the measuring system can be used from rail type S41, for higher rail profiles, adapters are attached to the rail under the contact points. For different gauges corresponding tensioning axles are available. The measuring system is suitable for the pre-setting of bogies and for the final inspection of vehicles. Measurement of wheel forces takes place via the flange. The mobility of the measuring system is particularly suitable for in-service testing of vehicles at different locations.
---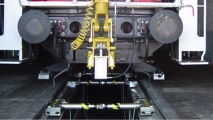 From day one we have placed emphasis on the digitisation of the measuring heads. This measure eliminates the traditional "meter" as a fault and failure source. The measurement data is sent interference protected on a digital data or industry data transmission path that communicates directly with the measuring computer. If no measurement data software is used, we have digital measuring points that display the measurement data directly.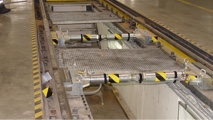 In case of faults, for example at the measuring heads, only the damaged head is changed and a replacement head is logged with its ID number in the software.
Acceptances:
Measuring equipment to be removed prior to delivery in accordance with DIN 7500-1 are approved by a DAkkS inspection body, which means for the user that he/she has a real "out of the box" system.
---
Technical data measuring system
| | |
| --- | --- |
| Allowable load capacity (axle load) | 30t - 40t |
| Rail profiles | All standard profiles from S41 upwards |
| Gauges | no restrictions |
| Protection class | IP 67 |
| Data Transmission | Digital data / Industrial data radio |
| Computer connection | Bluetooth, USB |
| Supply voltage | 230V/50Hz |
| Battery operation | 12V |
Technical data measuring points
| | |
| --- | --- |
| Allowable load capacity (wheel load) | 15t - 20t |
| Voltage supply | 12V |
| Battery operation | 12V |
| Measuring force per measurement point | 125kN - 150kN |
| Active measurement section | 450 mm |
| Protection class | IP 67 |
| display resolution | 0,01 kN / 1 kg |
| Accuracy class | (0,5) |
| Nominal temperature | -10°C to 65°C |
| Storage temperature | -40°C to 85°C |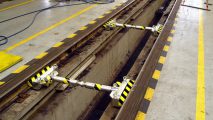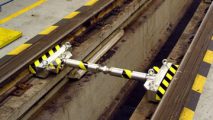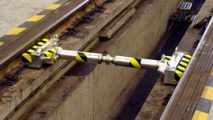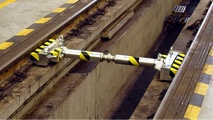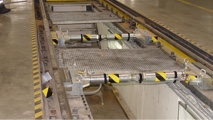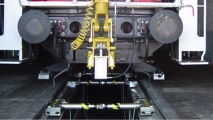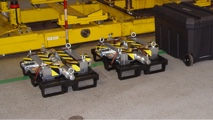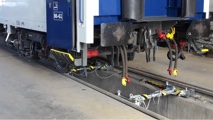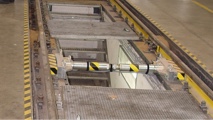 Downloads