Modular test stand system for light and heavy bogies, adaption if necessary
System communication via fail-safe data
Electromechanical loading means
Force transmission by connecting rod(s)
Compact design with no rotating portal and pit
Transportable by forklift / crane and truck
Calibration by accredited body
Inspection as measuring equipment in accordance with DIN EN ISO 7500-1
Operation with UIC and DIN-compliant software
---
Optional equipment and measuring devices:
Fully automatic measurement
Track width adjustment
Axis parallelism, wheel disc parallelism, wheel diameter
Measuring means for detecting X, Y and Z measuring points
Hoist
---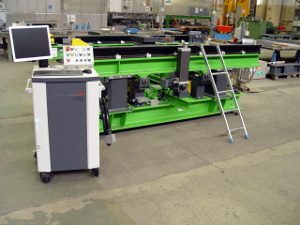 Bogie pressure measurement stands simulate the real forces acting through the vehicle body on the chassis. In addition to wheel contact force optimisation that supports safety and the minimisation of wear, various X and Z dimensions are inspected under load.
We manufacture mobile bogie load measuring stands type BMS 09 for light bogies (trams, commuter trains and subways) and type BMS 1.4 for heavy types of bogies (coaches, locomotives, etc.).
---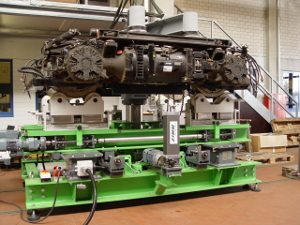 Special feature: it is from the mobile bogie test stand family, which reverses the principle of stationary test benches as the pressure load takes place from the bottom allowing a very compact design. The method simulates operating loads on the bogie, which act when installed on the frame and simultaneously measures wheel vertical or axis parallelism among other things. This allows the test stand to be very cost effective. This system is flexible and makes examining bogies for various types of railway vehicles easy.
---
Technical data measuring system
| | |
| --- | --- |
| Dimensions | 3300mm x 2550mm x 1250mm (BMS 0.9) |
| Weight | 3900 kg |
| Supply voltage | 400V / 50Hz |
| Control voltage | 24V |
| Absicherung | 32A |
| Force introduction points (tension) | Centrally and laterally to the bogie |
| Track width adjustment | 1000 bis 1526 mm (step-less) |
| Number bogie axles | 2 |
| Axle centre distance | infinitely variable |
Technical data measuring points
| | |
| --- | --- |
| Measuring force per measurement point (wheel load) | 80 kN |
| Max. traction spindle drive | 250 kN |
| Resolution force measurement | 0,01 kN |
| Resolution position measurement | 0,1mm |
| Division | 20.000 |
| Accuracy class | (0,3 / 0,5) |
| Nominal temperature | -10°C to 65°C |
| Storage temperature | -40°C to 85°C |