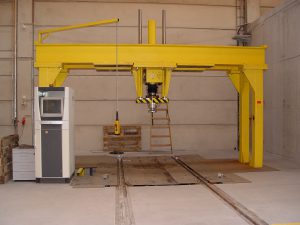 It is not always necessary or economically viable to consider the purchase of a new truck-load test bench, even if it is getting a bit old. In most cases the basic substance (steel structure) is still in a good condition. Modernisation measures help to ensure reliable operation and guarantee the current safety standards. We have specialised in this area in recent years and executed various modernisation projects.
Examples include:
ALSTOM Stendal
DB Fahrzeuginstandhaltung Cottbus
IFTEC Leipzig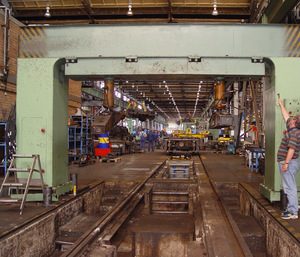 Systems can be adapted with new functions to accommodate the changing requirements of production. The operator must comply with the industries ongoing revisions to the rules and regulations being implemented in order to lawfully comply. New technologies and modernisation improve performance, energy efficiency and result in the maximum availability of the test benches.
Technical data
| | |
| --- | --- |
| Mounting options | Floor standing / under floor |
| Track width adjustment | variable |
| Axle centre distance | variable |
| Connection data | According to specification |
| Stress points | 1 to 4 |
| Wheel force measurement points | 4 to 6 |
| Protection class | IP 54 |
| Loading force | Up to 400 KN (Higher forces on request) |
| Nominal temperature | -10°C to 65°C |
| Storage temperature | -40°C to 85°C |
Measuring accuracy
| | |
| --- | --- |
| Load measuring device | Class (0.3) resolution 0.01kN |
| Sensing bars / prisms | Class (0.3) Resolution 0.01 kN |
| displacement encoder | Resolution 0.01mm |
Laser measuring device:
| | |
| --- | --- |
| Triangulation (Laser class 2) | Accuracy 0,01 mm |
| Rotating laser (Laser class 2) | Accuracy 0,05 mm |